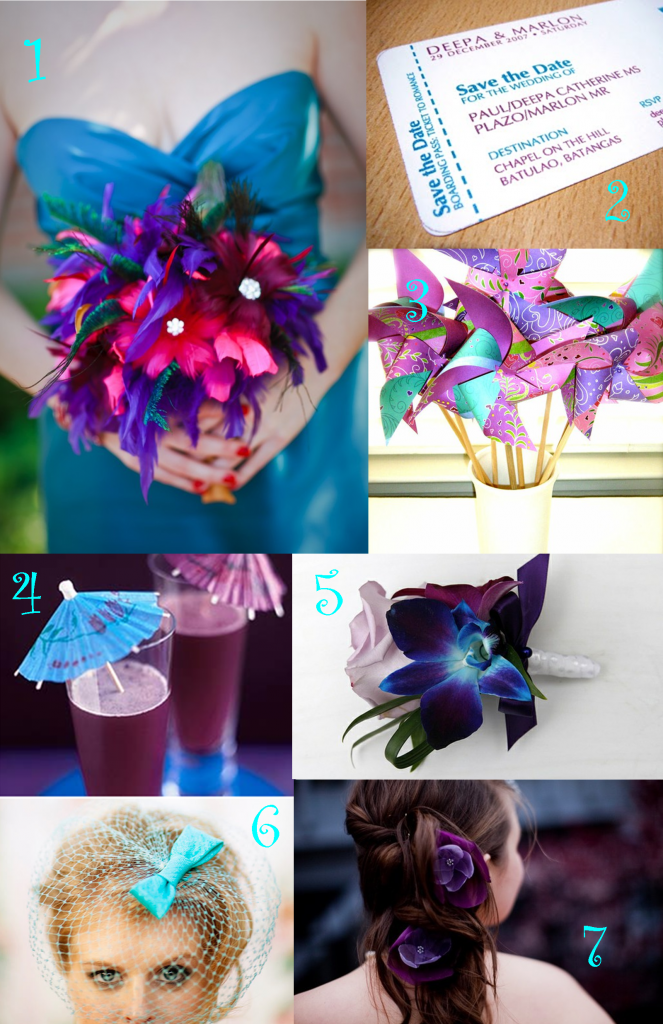 I have been talking with a Bride who has decided on one of this seasons most gorgeous and vivid color combo's purple and pool (a slight bit cooler than aqua but about the same hue). It is a beautiful color combo that I just couldn't pass on sharing!
1 ~ A new twist on the bouquet, perfect for vintage weddings. Feather bouquets are all the rage! These can be customized to any colors you like – get them here!
2 ~ These fun save the dates are fun, inspiring, and colorful. See how they were made here.
3 ~ Pinwheels and fun for summer weddings and come in all kinds of amazing colors. See these and more at this fun etsy shop.
4 ~ Making custom drinks are something everyone is doing these days, but did you know you can even color coordinate them?! Cool, refreshing, and tasty, get the recipe for it here.
5 ~ This special orchid is the perfect match for purple and pool weddings. See this unique boutonniere here. See more of Kio Kreations work here!
6 ~ This blusher is a great way to add a little color into the bridal ensemble. See this photo and other vintage inspired bridal portraits here.
7 ~ Anyone that knows me, knows that I have a love for hair flowers… These are a great way to get some extra color into your day, for both bridesmaids, flower girls, and of course, for the Bride! To get some of these awesome flowers, available in many colors, go here.
*Please follow the links to see where these great ideas came from to include the wonderful photogs that created each photo!