I am a fan of evening receptions – especially outdoor receptions at sunset! Gorgeous!!! But with that, you need to light the way. Here are some fun things I've found that I hope you'll love too!
1. Rattan lights are fun for stringing up in trees, wrapping around columns, or even weaving around centerpieces. You can get them in stores around spring time, or find some great deals online, see these lights here.
2. These personalized wood glass jar lanterns with moss are some of my favorite decor options for a sunset wedding in a beautiful outdoor setting. Hang them from trees, use them as a centerpiece, Put a couple on each side of your cake, light up a pathway with them… Too cute! Get them here.
3. Paper lanterns are fun, they give off a clean glowing effect, but these design cut lanterns are just to die for if you want something different. Check them out here.
4. These table number lanterns are a fun way to make what would normally be an eye soar to your tablescape, something that blends and lights up the evening. You can even add your names and date to them if you desire. See them here.
5. Monogram lighting can be done with a logo, initials, dates, you name it – and it helps personalize your event. There are many vendors that provide this service, if you'd like a list of some local vendors – feel free to contact me. (The above image was provided by the following website)
6. Sand centerpieces were just too irresistible as I currently cover a lot of beach weddings. I really like the long lines of this piece and of course – it's brought to you by, you guessed it – Martha Stewart. See how to create this lovely lighting piece here.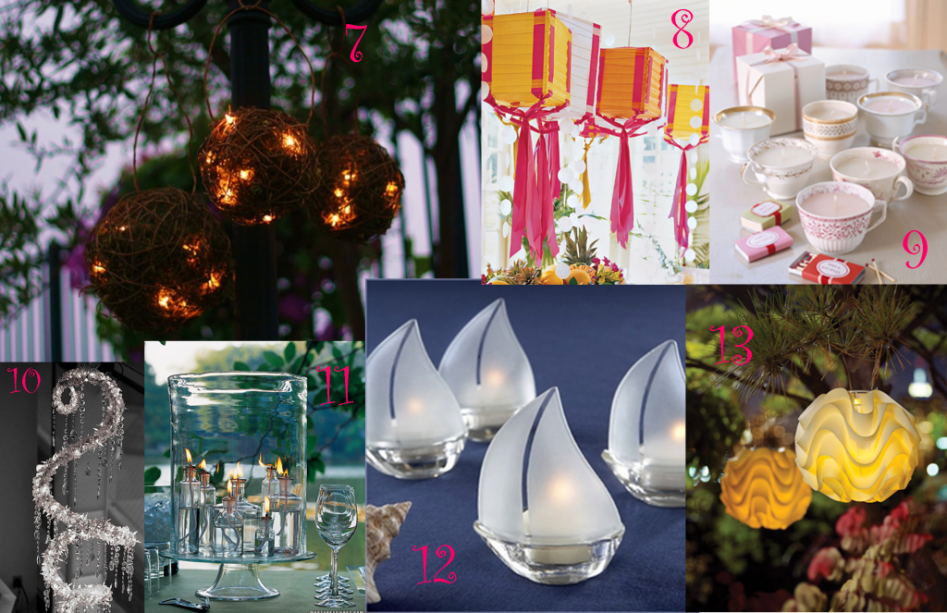 7. Firefly lanterns add whimsy and light up anything you'd like – hang them from trees, tables, or place them in an empty (no water, lol) birdbath, put them in a decorative bowl… Make them into a chandelier of sorts and hang them from the tops of a tent… Either way you go, it will be a delightful decor choice. Get them here.
8. Ribbon lanterns have an Asian feel – but can be done in personalized colors of your choice, making them colorful additions to any event, day or night! See how to make them here.
9. Tea Cup Candles are such a fun idea for a spring time wedding I couldn't resist. And they are a great way to light up your cake table especially if you decided to serve petite fours at your wedding. They also make fantastic favors. Idea is from Martha Stewart, see how to make them here.
10. I couldn't resist adding this sparkling wonder to the list! It's a spiral chandelier that really adds some wow – It's pricey, but… Wow! See it here. The same makers create large fantastical lighted air balloons for decor too.
11. So I have to admit that I'm getting many of these great ideas from the infamous Ms. Stewart – and here is another one! But who can resist these clean lines and the sparkle? Oil lamp love, click here for more info.
12. Wanting to sail away into the sunset – these adorable votives are a great start to your adventures! Get them here.
13. Another great idea from Martha Stewart – these are some unique and fun lanterns! Modern, edgy, romantic… see them here.
*Please follow the links to see where these great ideas came from to include the wonderful photogs that created each photo!