As the first day of summer is rapidly approaching, and the heat is rising all over the world – I thought it would be a great idea to share some refreshing summer treats! These are great ideas for a wedding, picnic, summer luncheon, or lounging by the pool! Enjoy!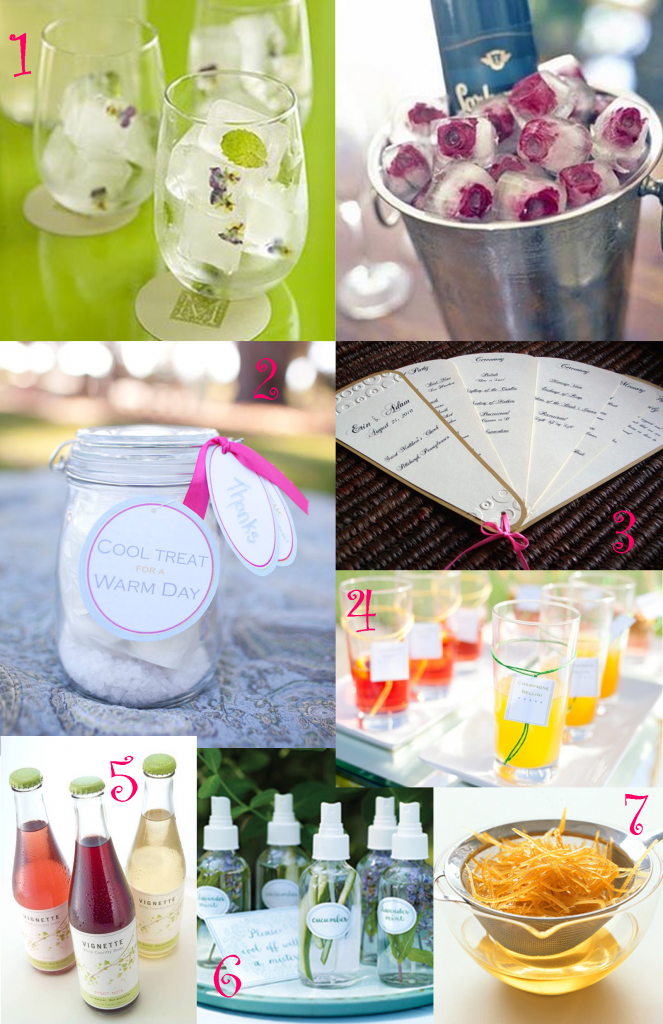 1. These ice cubes are such an amazing detail that can be used for the bridal shower, rehearsal dinner, wedding, or just for fun on Wednesdays! Lol. LOVE them! I got the idea from a great website with lots of cool Design it Yourself ideas, check it out here.
2. Yup – that's right, home made ice cream! What great favors – or even a happy ending to your bridal shower if you have invited a lot of friends with kiddos… Get directions on how to make them, with labels you can print, here.
3. Of course I couldn't leave out the fans… these little charms have been a favorite for outdoor wedding guests for years – but the designs have become more modern and personalized. See these beauties here.
4. Having a Champagne bar is a great way to serve refreshments for cocktail hour – and you can use these ideas for any type of drinks you like – even mocktails! Check out the details here.
5. These fun non-alcoholic drinks are made from wine grapes, sparkle just a bit, and are a wonderfully effervescent alternative to an alcoholic toasting beverage. You can order it online or find a store near you that carries it, here.
6. You can look up recipes for mists online but Martha Stewart has shared a couple of great ones – and these will not only help you and your guests stay cool in the heat – but there are a couple of bonuses to these all natural ingredients too – see them here.
7. Lemons are very refreshing, why not make a batch of this candied lemon zest to put out at the bar, on tables, or to use in a personal cocktail made just for you!? Lemon also pairs very nicely with other flavors like blueberry, and even lavender! See this recipe from Martha Stewart here.
*Please follow the links to see where these great ideas came from to include the wonderful photogs that created each photo!