There is no doubt about it – I LOVE coconut. Coconut Curry (Red) is one of my favs, along with so many other savory dishes… But today I found some sweet treats and beauty fun to brighten up your summer! It's hot out there, and coconut is refreshing and light, and if you like coconut water, it is chalk full of electrolytes you'll need in the heat!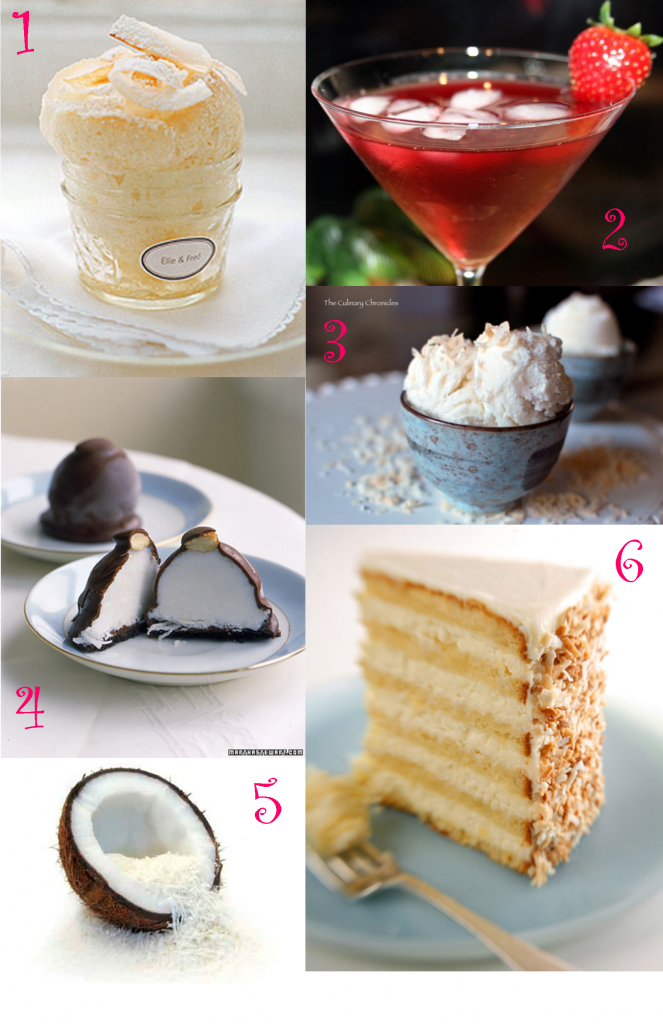 1 ~ Coconut Souffle! This looks delectable and I can't wait to try out this recipe! Light, airy, perfection! Get it here!
2 ~ Ahhh, the Love Martini. I first tried this delightful Martini with coconut rum at The Melting Pot (Yummmm)! Since then I haven't been able to get enough of these when it's a Martini day! 😀 Easy to make and easier to drink, this was my signature drink at my 30th Birthday Bash last year! See how to make it here, or email me and I'll give you an even easier way to mix it!
3 ~ Gelato is better for you than ice cream and this is just one of my favorite ways to have it!!! You can even make your own – see how here!
4 ~ Okay, bonbons take me away… these just seem simple and scrumptious! Cool and refreshing – what will Martha Stewart come up with next?! Get the details on these sweet treats here.
5 ~ I not only love to eat and drink my coconut – but I adore the smell of it! From coconut shampoo and conditioner, to lotions, and masks – nothing says summer and relaxation to me like coconut… Get the scoop on it's beauty benefits here and even more here!
6 ~ All you have to say is coconut cake and I'm game!!! Say no more, I'm there and I want the biggest piece you'll spare! Coconut cake = pure bliss for me! This by far is one of my top favorite cakes – and my husband is not a big coconut fan, like at all, so all the MORE for me!!! Get this delish recipe here!
*Please follow the links to see where these great ideas came from to include the wonderful photogs that created each photo!