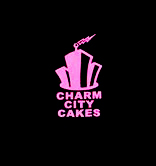 Another installment of the D.C. Chronicles, this week I give you CAKE! Not just any cake, and technically it isn't in D.C. at all, but my husband pointed out to me that we are going to be within decent driving distance to my favorite bakery on the PLANET! That's right ladies and gentleman, Charm City Cakes will finally be within the realm of reality for me and I can finally get one of their yummy and phenomenal creations! Something I think I may have to do is get a piggy bank dedicated to Charm City Cake, so every year I can get a cake from Charm City Cakes and celebrate! Because, who doesn't love cake?! Even better – they just started to offer "cake for two" so everyone can have their cake and eat it too!
For anyone not in the foodie camp on cake – allow me to introduce to you Chef Duff Goldman, the owner of Charm City Cakes, and star of Ace of Cakes on the Food Network. His equally (warning: Jenna-ism ahead) "awesomesaucey" crew help him achieve the magically delicious and oh so very edible works of art that come out of the bakery! And they WANT you to eat them! If you can imagine it, these guys can make it. Out of CAKE! Seriously. I swear that they have magical spatulas hidden in the bakery somewhere that can make your dreams come true in 49 flavors!
And as if it couldn't get any better, they now offer "cake for two" *happydance* ohhhh yeah!
*drool* Sorry, Pavlovian response to just thinking about it… but seriously – check out the mega list of flavors!
almond
almond amaretto cream
apples and cinnamon
banana caramel
bananas foster
beurre noisette
black forest
blackberry sourcream
blueberry muffin
brownie
butterscotch walnut
cardamom and pistachio
carrot
cherry and almond
chocolate
chocolate chip muffin
chocolate espresso
chocolate mint
chocolate orange
chocolate raspberry
curry caramel
dulce de leche
egg nog
ginger and green tea
italian orange and vanilla
lemon
lemon curd and berries
lemon poppyseed
marble
mudslide
orange and ginger
peaches and cream
peanut butter and jelly
peanut butter cup
pear compote and ginger
pear spice
pecan pie
pineapple coconut
pumpkin and cinnamon
pumpkin chocolate chip
red velvet
Rum
smores
strawberry shortcake
tiramisu
white
white chocolate raspberry
yellow
yellow w/ choc. buttercream
Hungry yet? Let's go get cake!!!! What do you guys think our first cake flavor should be?